DTEK opens wind farm in Ukraine amid war to build back greener after Russian invasion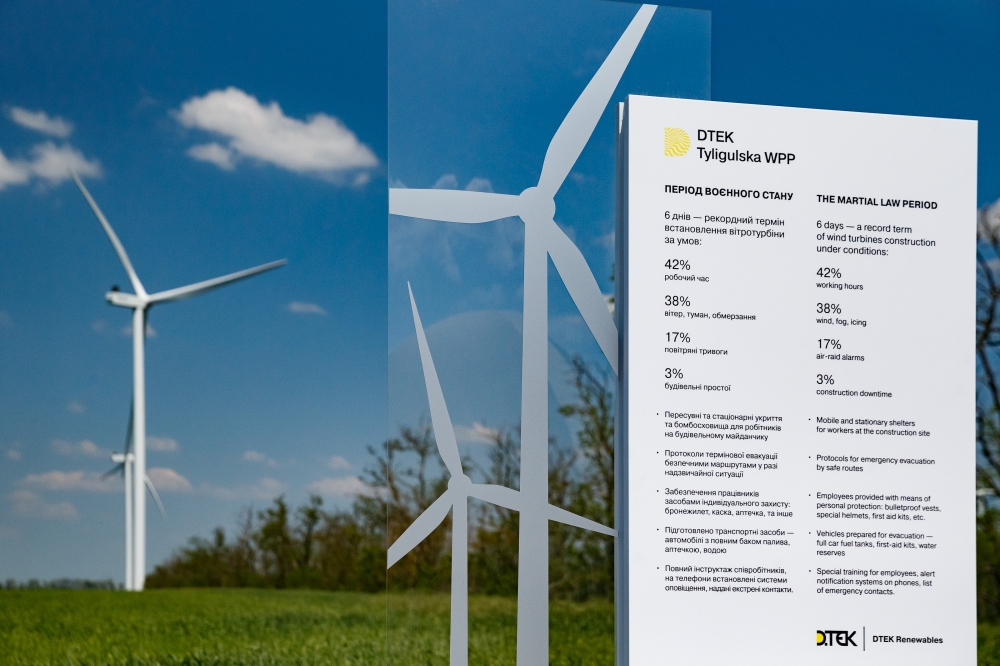 The world's only wind farm being built in a major conflict zone has been officially opened today by DTEK, Ukraine's largest private energy company.
Phase I of the Tyligulska Wind Power Plant (WPP), which lies just 60 miles (100 km) from the frontline in the Southern region of Mykolaiv, is already generating green power. The plant's 19 turbines have an installed capacity of 114 MW, generating up to 390,000 kWh, enough to power 200,000 households a year.
The decision to build Tyligulska WPP was taken in 2020 as part of DTEK's strategy to expand its renewables portfolio. The project will eventually boost DTEK's green energy capacity from 1 GW to 1.5 GW.
DTEK has invested $200 million in the construction of this first phase. The project is one of the first to deploy 6 MW Enventus turbines from Danish manufacturer Vestas.

Phase II plans envisage adding up to 64 turbines to raise the potential output to 500 MW. That will make Tyligulska the largest WPP in Eastern Europe, providing secure energy for homes and businesses in the south of Ukraine.
DTEK's plans to expand Tyligulska as part of the company's broader strategy to achieve net zero emissions by 2040 and help Ukraine become a clean energy exporter to the European Union. Those plans remain dependent on DTEK securing an additional $450 million in funding, both from foreign investors and crucially from state-backed international financial institutions.
Ground was broken in late 2021 and the first wind turbine was erected in December 2021. However, DTEK halted construction after russia's full-scale invasion in February 2022, with six turbines installed, when enemy forces advanced on Mykovaiv, and foreign partners were forced to evacuate staff and equipment
By summer 2022, and with financial support from DTEK shareholder Rinat Akhmetov, work resumed with an all-Ukrainian crew of 650 people at its peak. Staff worked in bullet proof vests and spent over 300 hours in bomb shelters from August 2022 until April this year, under the constant threat of missile strikes.
In one and a half years, the team installed 114 MW of generating capacity at twice the usual speed for a project on this scale. It was an outstanding achievement in uniquely difficult circumstances.
Rinat Akhmetov, investor at SCM, said:
"11 years ago, we started building green energy in Ukraine. We started to change the energy system of the country. Since then, despite all the obstacles, we never changed course, having invested more than 1 billion euros in solar and wind farms. In 2022, we had big plans to build a new Tyligulska wind power plant. However, the Russian invasion temporarily halted the project. Today I want to say: we made a decision to resume the construction of the wind power plant and the first stage of the station started working at full capacity. The war will not stop us. We continue to create jobs, pay taxes, generate electricity, restore grids, fight for our energy independence and invest in the future. We will win the war".
Commenting on Tyligulska's official opening, DTEK CEO Maxim Timchenko said:
"The Tyligulska wind farm is a symbol of Ukraine's resistance to Russian attempts to freeze Ukraine into submission. With projects like Tyligulska, we can build Ukraine back greener and cleaner and become a key partner in Europe's energy future. And by developing an infrastructure based on distributed rather centralised generation, we are creating an energy supply that is more resilient and stable."
"DTEK is getting ready for the construction of stage II. The company will continue to contribute to the implementation of Ukraine's strategy to build 30 GW of RES capacity by 2030. The Tyligulska wind farm is our practical step towards developing clean energy in Ukraine and intensifying energy security in Europe. By having completed Phase I, we are sending a signal to our international partners that they can invest in Ukraine today without waiting for the war to end. "